In-browser studios are an easy way to broadcast a professional looking live stream without requiring an encoder and advanced knowledge about streaming. You can start broadcasting immediately, without having to install software like OBS Studio, Wirecast or vMix. You don't need to know all about input devices and broadcast protocols. Some well-known examples are StreamYard, Restream.io and Lightstream.
Clevercast makes it easy to produce multilingual live streams from these in-browser studios, using Translate@Home for Remote Simultaneous Interpretation (RSI). You only need to set Clevercast's RTMP URL and stream key in your in-browser studio.
We have found that StreamYard and other in-browser studios send their RTMP broadcasts from servers in the US (even if you are located in Europe or elsewhere). We therefore recommend using our US ingest hub for broadcasts from Streamyard to avoid possible issues with an intercontinental broadcast. Let us know in advance, and we'll make sure the US ingest hub is set up for your account.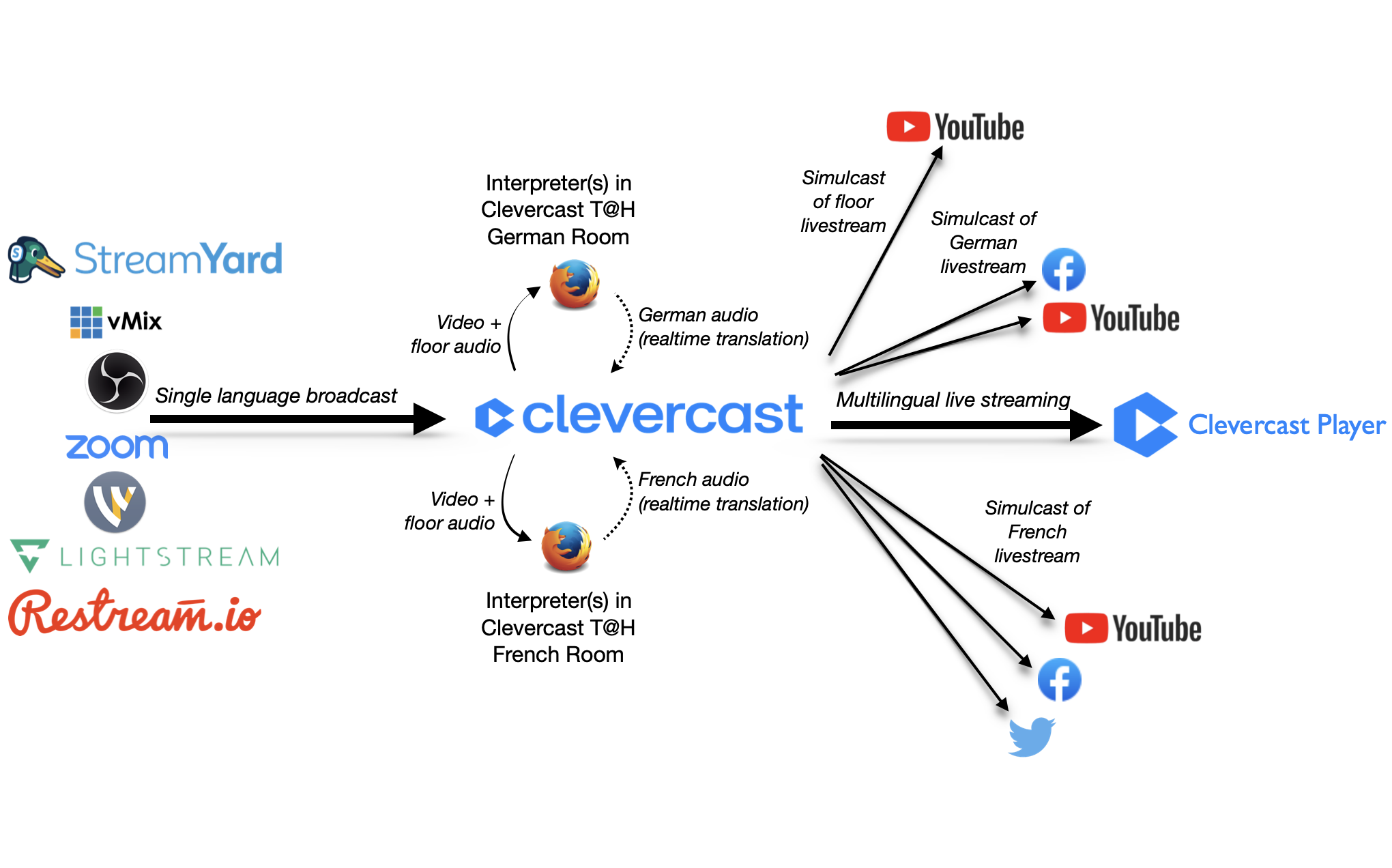 Advantage of in-browser studios
Originally these in-browser studios were aimed at easily starting a broadcast with a webcam and microphone. Nowadays most of them contain more advanced functionalities, including the ability to invite a dozen virtual guests and add them to your broadcasts.
For virtual presentations, conferences and town hall meetings they have become a worthy alternative to meeting platforms such as Zoom and Microsoft Teams. Moreover, they give you more control over the look and feel of you video and allow you to to broadcast a higher video quality.
Like Zoom, you need a paid subscription in order to broadcast to a custom RTMP address. But unlike Zoom, no watermark will be added to your broadcast when you have a paid subscription.
Clevercast Features
Clevercast Translate@Home allows you to translate the incoming broadcast into as many languages as you want. You can add the multilingual live stream to your site by embedding Clevercast player, allowing your viewers to select their preferred language in the player and listen to it (see demo).
Moreover, Clevercast also supports broadcasting the live stream with a selected language to third-party platforms that don't support multilingual video (like YouTube, Facebook, Twitter …).
It is also possible to record the video and all languages server-side and publish the recording afterwards on your site as Video on-Demand. Or use it for streaming the same live video to a different audience by simulive streaming the recorded VoD.
For more info, see the Clevercast Translate@Home product page.