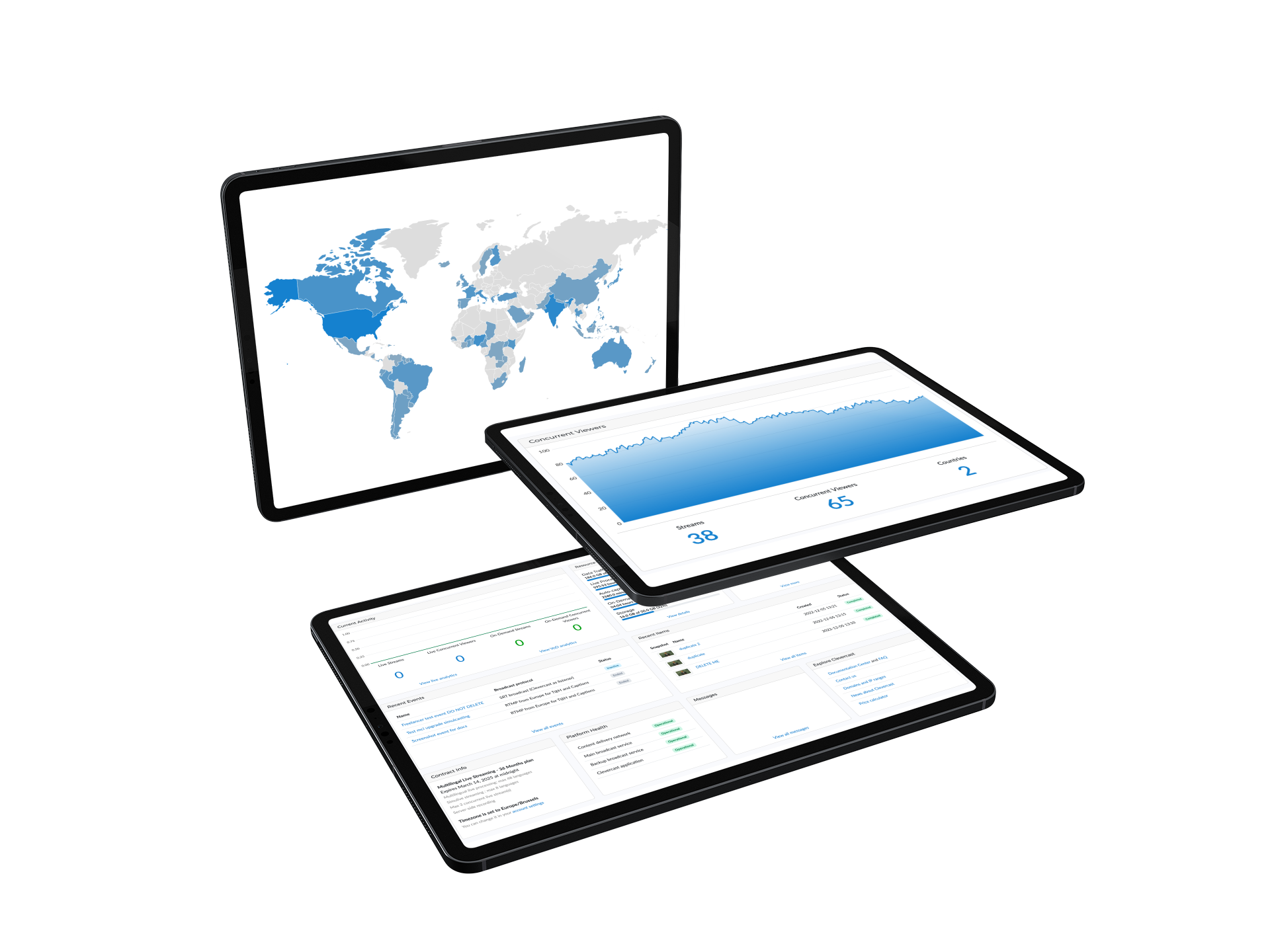 Plans & Pricing
Unleash the full potential of our solutions by choosing the right plan, or contact us for a custom plan, premium support or a managed service.
Choose a plan that meets your needs
Use our price calculator to get a monthly plan for your type of event. Or contact us for an annual plan, premium support or additional services.
30-day plan
Get a SaaS plan with the features and resources that you need. If you end up using more resources – like data traffic, live processing hours or auto-captioning hours – the overuse is billed when your plan ends.
Basic support is included in all plans. We offer premium support for a guaranteed response time during your event or other purposes.
Use our online price calculator for a custom quote, or contact us for a premium support request.
Managed Service
You can also use Clevercast as a managed service, which involves sourcing suitable interpreters and captioners and helping you to manage them, monitoring your live stream and more.
This lets you produce high-quality multilingual live stream in a comfortable way.
In such cases, the total project cost depends on the time and duration of your live stream. Contact us to set up a meeting.
Annual plan
An annual plan has two major advantages.
A discount is applied to the total cost of the plan. The more resources included, the greater the discount.
You can add extra resources to your plan at a set price during the entire year. Any overuse is also billed at these set prices, which are a lot lower than the overuse prices for a monthly plan.
Annual plans require prepayment. Contact us for a quote.
Single-language streaming
Clevercast is also a fully-fledged platform for regular live and on-demand language streaming. Single-language plans come with a discount.
A single-language plan has a 30-day or one year term. An annual plan with monthly billing is also possible.
Not satisfied with your current streaming provider? Send us your requirements and current price, and we'll come up with a more suitable plan.
Frequently Asked Questions
These questions concern our plans and pricing. For other questions, see our FAQ page and documentations
What happens if my plan doesn't contain sufficient resources (e.g. data traffic)?
Each plan contains a certain amount of resources, like data traffic, live processing hours and (optionally) auto-captioning hours.
If these resources don't suffice, we'll charge the overuse cost when your plan ends. The overuse price per resource is listed on the bottom of your plan.
When you make an order, you can add extra resources to your plan to avoid overuse.
Do I get a refund for unused data traffic?
No. We recommend making a cautious estimate of your data traffic and pay overuse costs if necessary. Try not to overestimate the average number of simultaneous viewers.
Do my resources expire?
Yes, all resources expire at the end of your plan's period. You can avoid this by ordering an annual plan.
Can I add extra resources to my plan after it has started?
No. This is only possible for an annual plan.
Can overuse lead to the live stream being stopped or reduced in quality?
No. As a general rule, we never stop your live stream, regardless of the amount of overuse.
How do I order a plan?
Use our online price calculator to get a quote, or contact us if you need premium support or custom services.
When you accept our quote, we'll send back an invoice. We require prepayment, which is possible via bank transfer (send us a copy of the receipt), Paypal or credit card.
After we receive (proof of) payment, we'll set up your account asap.
When does a monthly plan start and end?
By default, a plan starts when we receive (proof of) payment, unless you ask for it to start on a specific day. A monthly plan expires automatically after 30 days.
How long am I locked into a plan? Is there auto-renewal?
All our plans have a start and end date. After the end date, your account is automatically disabled, unless you explicitly ask for your plan to be renewed.
Do you provide event support or premium services?
Yes. Contact us for more info.
Do you offer volume discounts?
Yes. The more resources you add to your plan, the lower price you will receive through our automated price calculator.
Get Started Now
Start live streaming today with a solution of choice. No credit card required.