Webinar Platform
Create engaging, interactive events for participants around the world
Transform your events and elevate your audience's experience. Whether you're hosting webinars, virtual events, or hybrid gatherings, our platform provides the tools and features you need to bring your vision to life.
Customizable multi-purpose webinars
You can fully brand your webinar front-end by selecting a logo or banner, background image, color scheme, custom font, poster images in the player, social media icons… You can even create your own custom CSS file for further customization.
Our innovative platform puts you in control of participant interaction and information. It lets you activate various participant interaction options such as asking questions, private/public chat, and surveys. You can even add third party solutions like a social media wall or audience voting by embedding iFrames.
Clevercast allows you to import and invite participants, or set up a fully branded registration page for them. You can choose between one-step registration for marketing purposes or secure two-step registration in which registrants require approval before getting access to the webinar.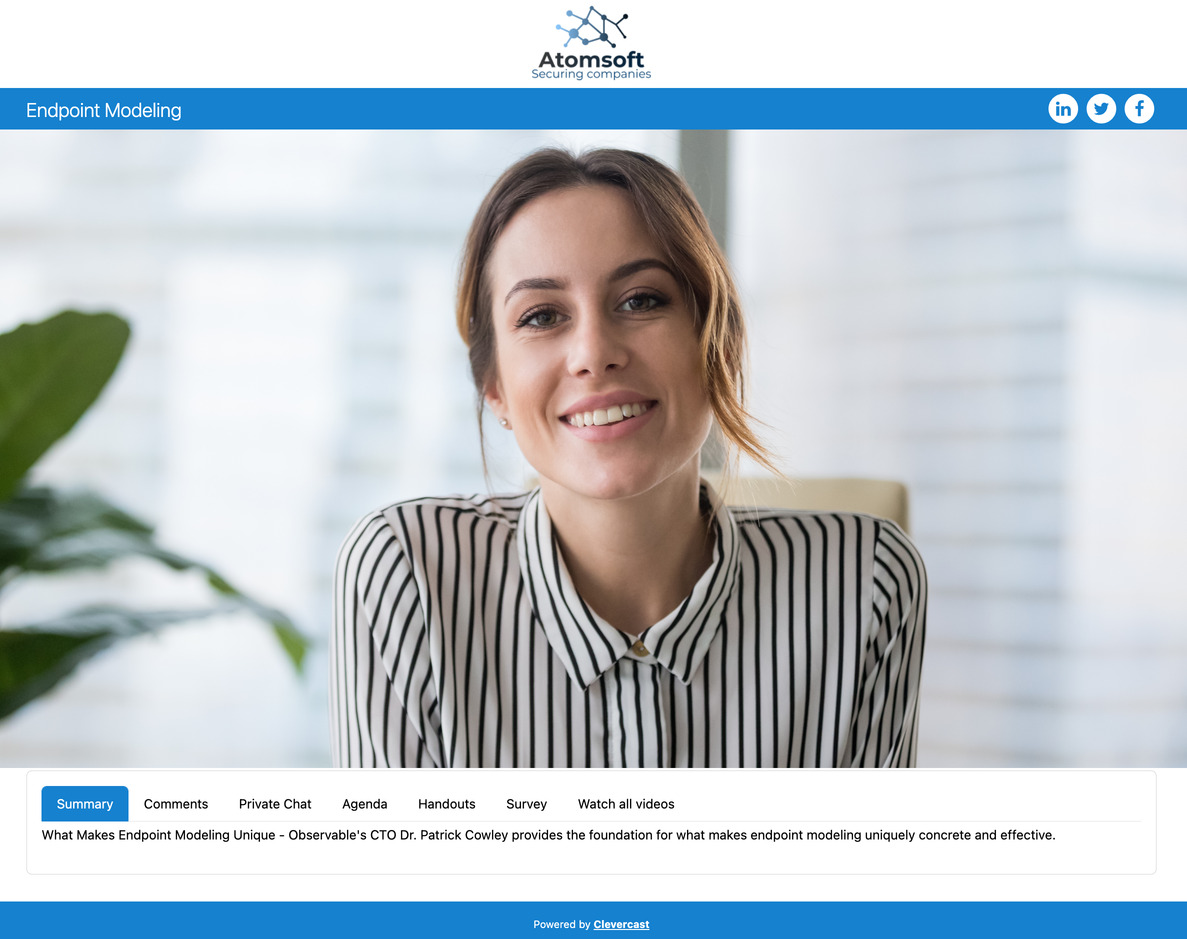 Multilingual webinars
Multilingual webinars let you stream video with multiple audio tracks, both live and on-demand. The webinar player allows your participants to switch to their preferred language at any time.
The audio streams can be broadcast along with the video. If this isn't possible, you can do remote simultaneous interpretation through Clevercast Translate@Home.
Translate@Home makes it easy for interpreters to translate the incoming floor audio to any number of languages.
Simulive webinars
Simulive or simulated live streams allow you to stream an uploaded video as if it were a live stream. Viewers will not see any difference between a simulive webinar and a real live webinar.
Just upload a video file to Clevercast and schedule the webinar at a given time. Clevercast automatically starts your live webinar when the time comes. See our simulive webinar guide for more info.
Simulive streaming is also available for multilingual video.
More than just webinars
Clevercast Webinar is flexible and extensible. It is used for various purposes ranging from conferences and presentations to e-learning, press conferences, corporate communication, town hall meetings…
The appearance and behaviour of the application can be adapted to the kind of event.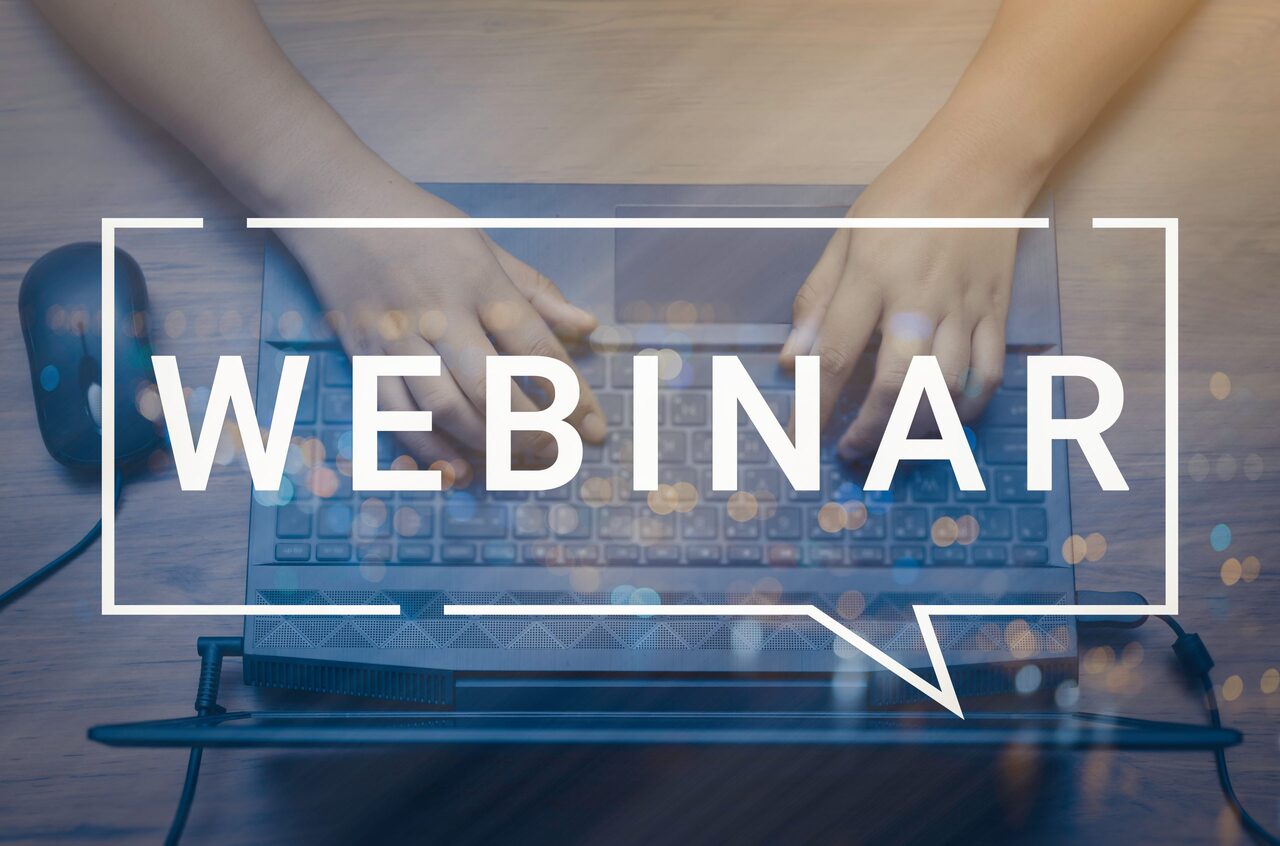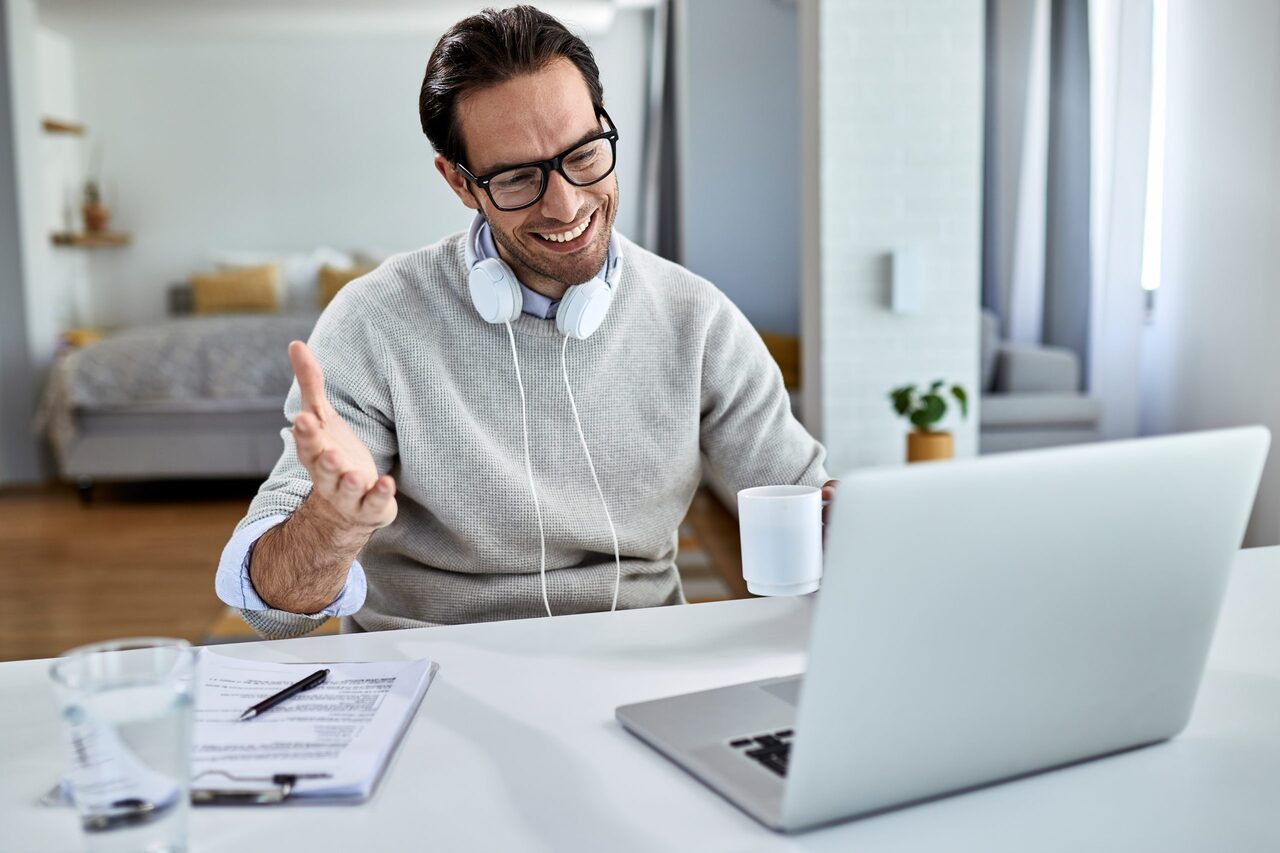 Different flows for participant access and interaction
You decide how participants can access a webinar and how they can interact. Participants can access a webinar in different ways (one- and two-step registration, invitation, redirect, API). Clevercast provides a complete overview of your participants behaviour: registration, viewing time, interaction data including all questions and answers …
Optimal user experience on every device and platform
Our intuitive interfaces are designed for both desktop and all types of mobile devices. Clevercast transcodes your live stream in realtime for adaptive streaming, allowing the player to automatically ensure smooth streaming for everyone (based on the internet connection, screen size and available GPU and CPU).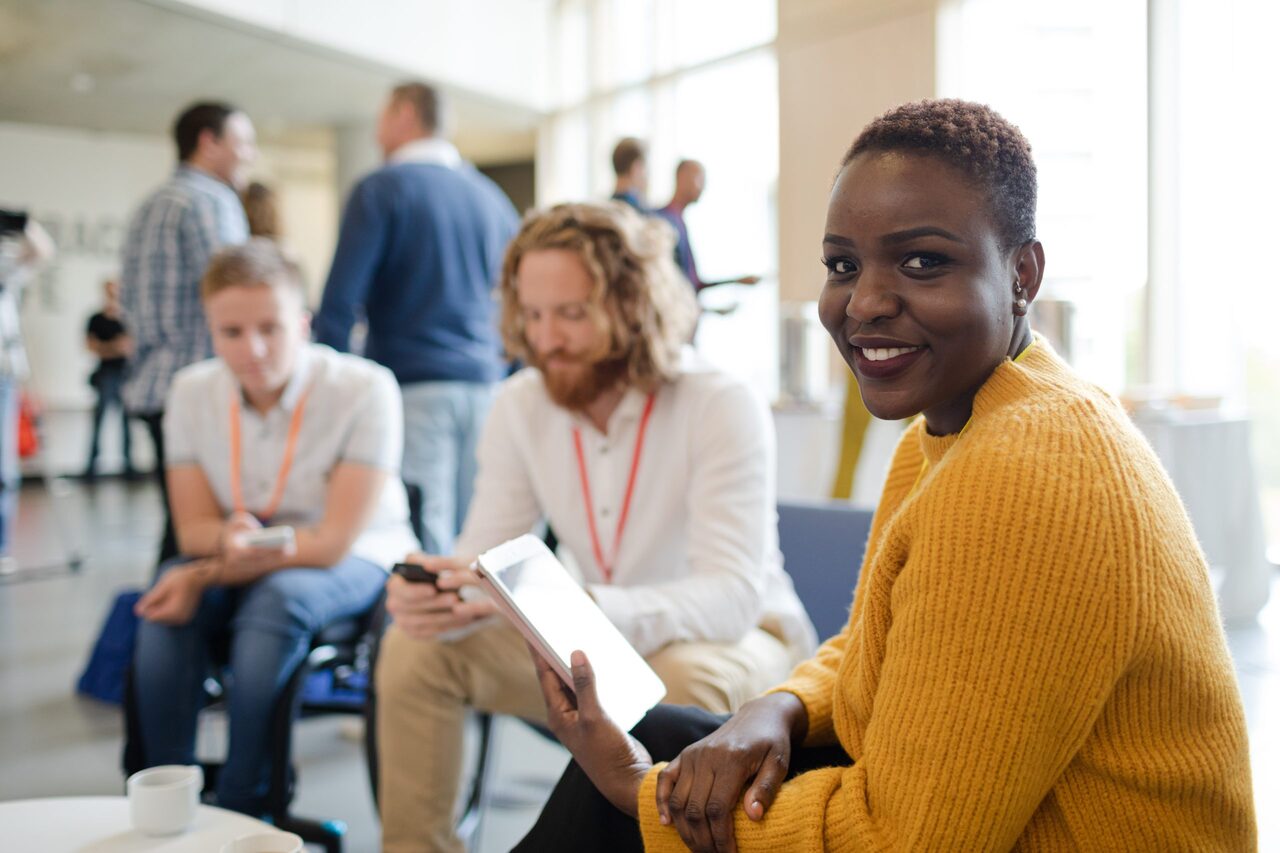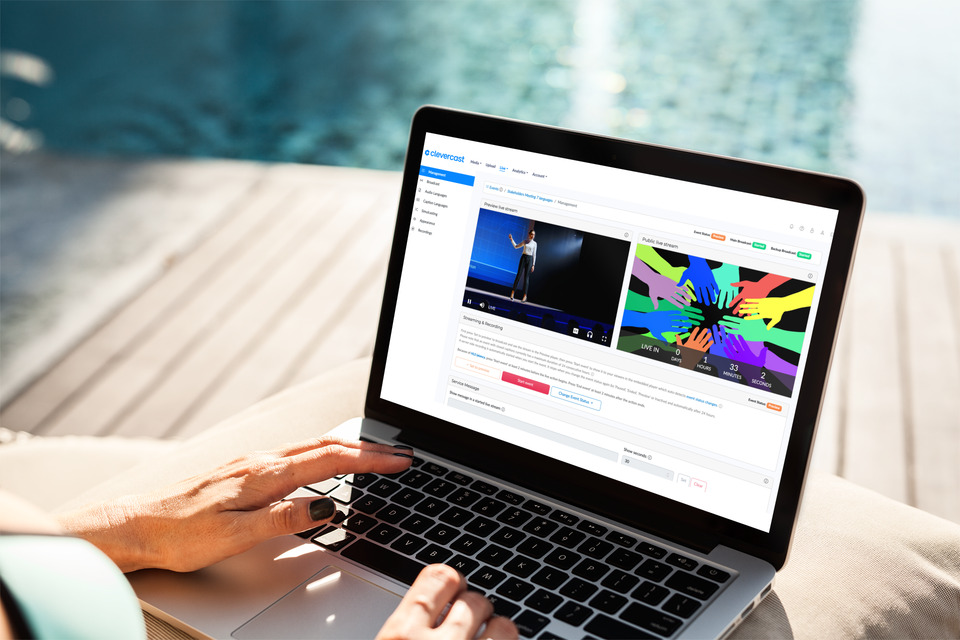 Best Streaming Price
Choose a live and VoD plan that's right for you
We have different pricing models for single language and multilingual plans. Our single-language plans are cost-competitive with any other high-performance live streaming platform on the market. If you have high volume needs,
contact us
for a fully customized plan.
Clevercast is your best choice if you are looking for a reliable and fast streaming platform, with intuitive interfaces that are easy to use. Plans are possible on a monthly and annual basis. Not satisfied with your current streaming provider? Send us your terms and price, and we'll come up with a more suitable plan.
Why choose Clevercast?
Extensive feature set
Clevercast has all necessary features for live and on-demand video streaming, management, distribution, monetization and analytics. Whatever your project needs are, we've got you covered.
Mobile friendly
Clevercast Webinar is built to work on iPad, iPhone, Android and other mobile devices. Our interfaces provide an unparalleled user experience on every platform. Adaptive streaming ensures smooth video streaming on mobile devices with fluctuating bandwidth.
Multilingual & intuitive interface
New users can start right away, without instructions, thanks to our intuitive UI that is available in multiple languages (let us know if you need an additional language). Our user interface will guide them through the process of registering, watching and participating.
HD video, adaptive streaming
Clevercast uses adaptive streaming to provide the best possible viewing experience on any device and platform. We use global CDNs for delivery, so viewers anywhere in the world can request the stream from a local server.
Secure registration
Clevercast Webinar lets you choose and customize the registration flow (public, marketing, manual approval, invitation-only). You can schedule reminder and follow-up emails that let you target different viewer segments with personalized calls-to-action.
Rich feature set for participant interaction
Clevercast has many options for interaction with viewers like live audience polls (in the video player), private and public chat,  Q&A, surveys, embedded Twitter feeds, calls-to-action… You determine which features get used for each webinar.
Customize theme and branding
Landing and registration pages can be styled to reflect your brand identity. Add your logo, corporate colors and personalized messages. Tailor the system in depth to fit your precise needs, including email templates.
Live dashboard
The live dashboard shows you exactly what is happening during any phase of the webinar. It lets you preview the video, start and stop the broadcast, see the number of participants, react to questions, launch polls, send private or public messages…
Publish to on-demand
Clevercast comes with DVR and automatic conversion to on-demand, offering those who missed the live event an almost identical catch-up experience. Webinars can be pauzed and automatically divided into multiple sessions (per topic or speaker). Recorded webinars can be trimmed and edited.
Extensive support
At Clevercast we believe in working together with our clients. We are gladly available if you need help integrating or deploying your webinar solution or even producing your webinars.
Always available in the Cloud
Both the application and video processing live in the cloud. This makes the solution perfectly scalable. Extra storage space and processing power are readily available.
Detailed analytics and heatmaps
For every participant you know exactly which parts of the webinar have been watched, which fragments were re-watched. You can follow-up with an email or call-to-action based on the behaviour of the user.
Custom features and integration
Integration with your own environment or third-party solutions is important, so we offer customizable workflows, hooks and an API for performing integrations. If you need custom features, we can extend our application to fit your needs.
Get Started Now
Start live streaming today with a solution of choice. No credit card required.