Clevercast Translate at Home (T@H) can be used to simultaneously translate Zoom meetings and stream them to a player embedded on your own website. Viewer are able to choose their preferred language via a button in the player.
This requires the following steps:
1. create a T@H RTMP event and add your additional languages (= the ones you want to be translated simultaneously)
2. configure your Zoom meeting to stream to your event in Clevercast
1. Create and start a T@H event
You do this in exactly the same way as for other T@H events. Go to the Live -> Events page and press the 'Create Multilingual' button. Choose the default broadcast protocol 'Translate at Home (T @ H) – RTMP (IN)' and select your default language (= the language of the Zoom meeting).
When the event has been created by Clevercast, add the languages for your interpreters and press the Start Event button (this is required to allow Clevercast to receive the incoming stream). Interpreters should read our guide and follow our best practices.
2. Configure your Zoom meeting to stream to the T@H event
Zoom allows you to live stream Meetings or Webinars using a Custom Service. To do this, copy the Broadcast URL and Stream Name (= Key) from the Clevercast event page and paste them in the Zoom dialog.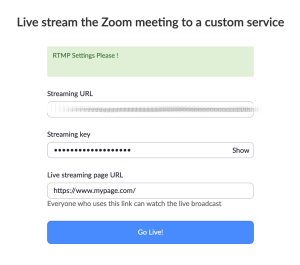 As the 'live streaming page URL' you can enter your own page (on which the player is embedded) but this is not important; it only serves to allow Zoom to do a redirect to this page.
You will see the Zoom stream appear in the Clevercast event interface and on your own page. The translators will also see and hear the stream in their language rooms and can translate it simultaneously.
The video is streamed (through Amazon CloudFront) to your worldwide viewers, who can choose their preferred language in the player on your website.
What if people speak different languages in the Zoom meeting?
Clevercast (currently) assumes all speakers use the same language. If the floor language constantly changes, you shouldn't use Clevercast T@H. But if the floor language is mostly the same with just a few exceptions, you could use our workaround with the 'Original' language.
Set the 'Original' language as the default language. If you only have two languages, you can set the 'Translation' language as second language. Otherwise set he actual languages as translations. Viewers will notice that they only need to switch to 'their' language when the presenter is not speaking their language. Otherwise they can listen to the Original language.
For more frequently asked questions about T@H, see our product page.